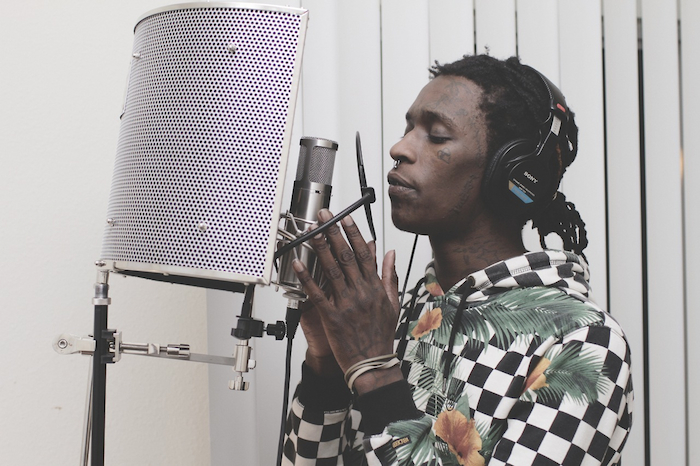 Listen to these 10 Young Thug songs to hear why there is so much buzz about this ATL rapper.
During his recent interview on Late Night with Jimmy Fallon, Atlanta's T.I. referred to Young Thug as "one of the hottest cats in the rap game right now".
While the Internet debates whether or not Young Thug is gay, the Atlanta rapper continues to create songs that resonate with hip-hop fans across the globe.
If you're not familiar with Young Thug's catalogue, we've put together a collection of 10 Young Thug songs that will help get you caught up.
10 Young Thug Songs That Explain Thugger's Buzz
1. Young Thug – "Stoner"
We're starting this collection Young Thug songs with some of Thuggers more popular jams. "Stoner" is Young Thug's most successful song to date, selling just shy of 400,000 digital copies. It's also Young Thug's most popular song on Spotify with over 5.1 million streams as of August 10, 2014.
2. Young Thug & Rich Homie Quan – "Lifestyle"
Young Thug teams up with another one of Atlanta's rising stars, Rich Homie Quan, for "Lifestyle". This song was released under Birdman's Rich Gang umbrella this summer, and continues to make waves on YouTube.
Young Thug Song Analytics for "Lifestyle" via YouTube:
For the record, Thuga Thug is not officially part of YMCMB, but the Atlanta rapper has said he will eventually become an official part of the Cash Money empire.
3. Young Thug "Danny Glover"
"Danny Glover" is the Young Thug song that Kanye West was caught dancing to back in January. We're still wondering what Danny Glover thinks of Young Thug making him relevant to pop culture again.
4. Young Thug & Gucci Mane "Ride Around The City"
If there's one rapper who deserves credit for seeing Young Thug's potential, it's Gucci Mane. The next 3 songs on the list of Young Thug songs are Young Thug and Gucci Mane collaborations that we play at the ATLRap headquarters.
"I chased the boy down and told him like, you're one of the most talented people I've ever worked with," Gucci said last year, after recruiting Thug to come work at his private studio, the Brick Factory, an "open environment" where a team of producers and rappers worked around the clock. (BuzzFeed]
"Ride Around The City" is one of our favorite Thuga x Gucci collaboration, and the song features one of the the catchiest Young Thug hooks to date.
5. Young Thug & Gucci Mane "Bricks"
Again, Young Thug brings this song to life with his chorus. Yaa-yaa-yeah.
6. Young Thug & Gucci Mane "Shooting Star"
"Shooting Star" is one of the standout songs from Young Thug's critically acclaimed 1017 Thug mixtape. 1017 is in reference to Gucci Mane's 1017 Brick Squad Records, the label that Young Thug represents.
7. Young Thug "Condo Music"
This song sounds like a hybrid of Future and Lil Wayne. It's more triumphant-sounding than Young Thug's more recent material. Try putting this on when you're driving. It's good driving music.
8. Young Thug "Strange Things"
The Lil Wayne comparisons make sense when you hear a song like "Strange Things". Since Wayne plans on retiring soon, maybe this is why Birdman is so eager to work with Young Thug?
9. Young Thug "Fuckin Witcha" ft. Cash Out
"Fuckin Witcha" originally appeared on I Came From Nothing 2, a Young Thug mixtape from 2011. If "Strange Things" reminds you of Lil Wayne, wait until you hear Thuga on "Fuckin Witcha". Clearly Wayne was a huge influence on Thugger. What's cool, though, is how Young Thug has evolved his style.
10. Young Thug – "Some More"
"Some More" is the perfect way for us to conclude our top 10 Young Thug songs. We anticipate this song to keep gaining momentum in the coming weeks!
Young Thug Song Analytics for "Some More" via YouTube: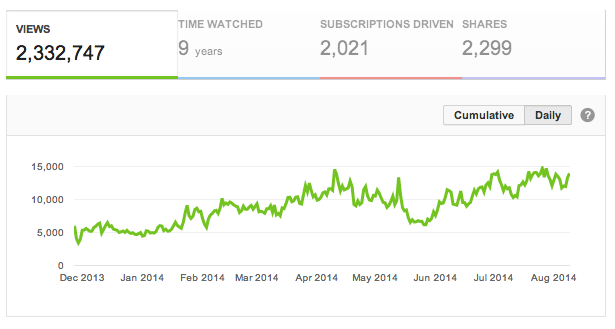 Need some more Young Thug music? Check the Most Popular Young Thug songs according to Spotify: