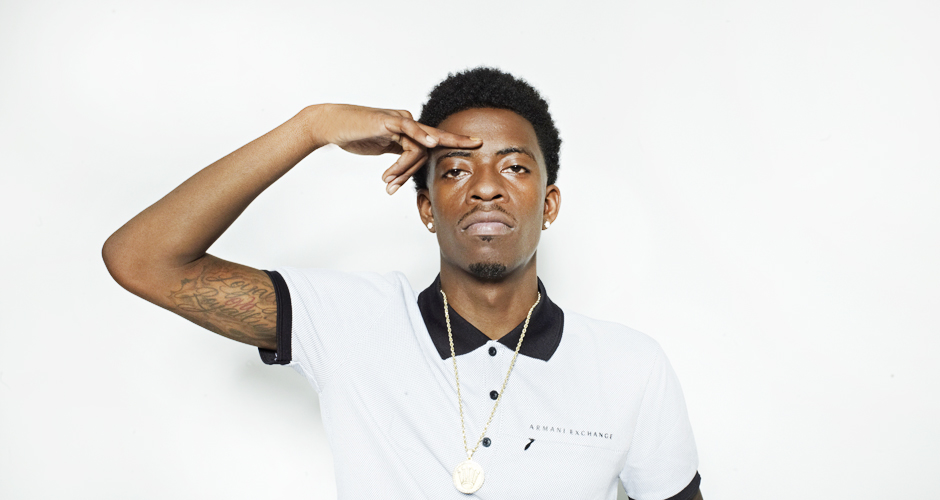 Rich Homie Quan is a young rapper from Atlanta who's popularity is going to explode in 2014.
Rich Homie Quan had a great 2013 largely thanks to the success of "Type of Way", a stand out song from Quan's Still Going In mixtape that Drake called the song of the summer.
Not only did "Type of Way" receive praise from Rich Homie Quan's peers, it made an impression on consumers. Type of Way" has been on the SoundScan digital singles chart for almost 20 weeks straight, selling over 300,000 copies to date.
Rich Homie Quan is positioned to dominate urban radio in 2014 as an artist and also as a go-to guy for a hook that sells.  The Q4 success of YG's "My Hitta" says it all. "My Hitta" is laced with an infectious Rich Homie Quan chorus, and has sold over 500,000 digital copies in just 12 weeks.
How am I so confident that 2014 is the year Rich Homie Quan takes 2014 by storm? Well, in addition to being sort of a rap Nostradamus, I've got some strong supporting agruments (see below)
1. Rich Homie Quan writes radio hits.
Rich Homie Quan's success with "Type of Way" and "My Hitta" (see above) isn't a fluke. Rich Homie Quan has a gift for writing choruses. If you've listened to Quan's mixtapes, you know that the Atlanta MC effortlessly delivers his rhymes in unique melodies that get stuck in your head. Most rappers can't do this. Heck, most artists can't do this. At the end of the day, great songwriting is what separates one-hit-wonders from artists with long careers (see YC vs. Future). It's not rocket science. Rappers that come-and-go can't write catchy choruses while rappers that have careers cannot.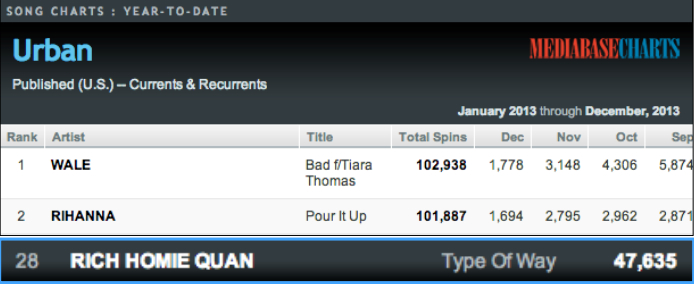 2. Demand for Quan's mixtapes is rapidly increasing.
It's always a good sign when the number of downloads and streams for your latest mixtape on DatPiff blow away the numbers of your previous release. Quan's Still Goin In (Reloaded) dropped on DatPiff in March 2013 and has since been certifeid DatPiff gold with over 100,000 downloads to date. Rich Homie Quan's latest mixtape, I Promise I Will Never Stop Goin In, was released a month ago on November 26th, and it has already been downloaded over 250,000 times.
3. Rich Homie Quan has a mainstream appeal.
Rappers often have to compromise their content to reach critical mass. So far in the Atlanta rappers short career, Rich Homie Quan hasn't had to do this.  "Type of Way" is a street single. Quan even recorded and mixed the song himself, in his garage using his own studio equipment. As far as the content is concerned, there's nothing mainstream about "Type of Way". Despite this, the "Type Of Way" music video has close to 25,000,000 views on YouTube, and it's only been out for six months. Def Jam deserves credit for the marketing, no doubt, but Quan's song is out-performing other Def Jam singles which says plenty about the music itself.
Rich Homie Quan "Type of Way" – 25 million views since July
French Montana "Ain't Worried About Nothin" – 24.5 million views since July
2 Chainz f Pharrell "Feds Watching" – 13 million views since June
Yo Gotti f Jeezy & YG "Act Right" – 8.6 million views since July
Migos "Versace" – 3.5 million views since September
4. The Internet loves Rich Homie, baby.
Internet search is the initial consumer touchpoint, and Google's search trends tool it is a great way to gauge the popularity of any given topic. Take a look at this comparison of  Rich Homie Quan's Google popularity compared to Atlanta superstar Future . Future is without a doubt more popular than Quan. That's not the point I'm trying to make. The key takeaway here is the way Rich Homie Quan (blue) is trending. 
5. Rappers like Rich Homie, too.
There's plenty of rappers who have great music, but terrible people-skills. As a result, they don't get very far in the music industry. After all, they say success in the music business is 10% 'what you know and 90% 'who you know'. By all accounts, Rich Homie Quan is a likeable dude, and this is helping him build bridges with guys like Drake. In an interview with MTV, Drake said said this about Quan:
"He's like one of the nicest guys I've met just off first impressions"
What do you think of Rich Homie Quan? Is he the next rapper from Atlanta to blow up or a less-talented version of Future? Sound off in the comments?