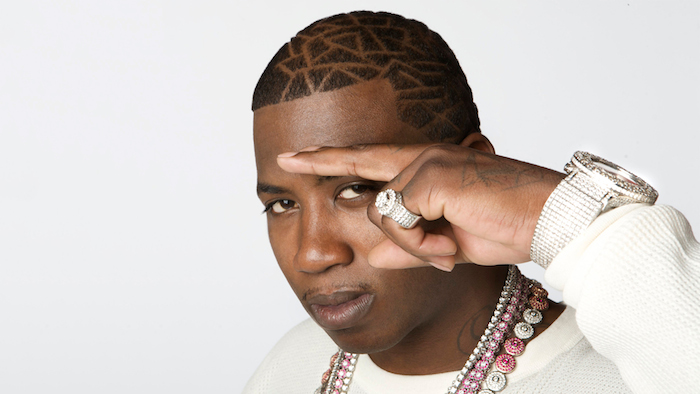 Is Gucci Mane in jail? It doesn't sound like it.
Technically speaking, no. Gucci Mane is actually in prison, and the Atlanta rapper will remain there until 2106. On May 13th, Gucci Mane — real name Radric Davis — plead guilty to a federal gun charges. As part of the plea deal, Gucci Mane must serve three years behind bars. Gucci was initially facing up to 20 years so the news could have been much worse. The conviction stems from a nearly back-to-back arrests in September 2014.
On September 12, 2013, Davis, who was a felon at the time, was found in possession of a firearm," a federal prosecutor's news release said. "Then, just two days later, on September 14th, he again possessed a firearm different from the earlier gun. On both occasions, Davis displayed the loaded firearm, acted erratically, and made threats to individuals, including police and his attorney." [CNN]
Despite his physical absence, Gucci Mane has maintained a consistent presence on the web thanks to a steady flow of new material. If you frequent the most popular rap blogs, you often see new Gucci Mane songs or full mixtapes by Gucci Mane. In fact, many fans of the Atlanta rapper are unaware if Gucci Mane is in jail because of all the new music Gucci has released since the arrest in September. The steady flow Gucci Mane music is showing no sign of slowing down, even though Gucci is expected to be incarcerated until 2016. Last week Gucci Mane announced — via a prison payphone — that fans can expect a triple album on June 17th. A triple album.
What is interesting about the project is that each of the three albums features Gucci Mane collaborating with an up-and-coming Atlanta rap superstar. The Purple Album features Young Thug. The Green Album features. The White Album features PeeWee Longway. According to Gucci Mane himself, production for World War 3D is provided by Mike Will, Sonny Digital, Metro Boomin, and 808 Mafia, to name a few. Listen to Gucci Mane make the announcement about his new music from a prison payphone:
If you think that Gucci Mane releasing a triple album is crazy, you'll be blown away by what Gucci Mane plans to release following the June release of World War 3D. Following World War 3D, Gucci Mane will release two more albums, Trap House 4 and Trap God 3. Fans can expect Trap House 4 on the Fourth of July and Trap God 3 on September 13th.
How is Gucci Mane able to release so much new music from behind bars? Gucci Mane has a super-human work ethic. When Gucci Mane isn't getting in trouble, the Atlanta native is usually in a recording studio. Our sources tell us that Gucci Mane had 10 albums worth of material in the vault prior to the September arrest.
Gucci Mane's work ethic is unprecedented. In the seven years he's been active in hip-hop, the Atlanta rapper has released more projects—both mixtapes and albums—than perhaps all of his contemporaries. Gucci's commitment to studio recording is well-documented, and his tremendous output in less than a decade supports this. [Complex]
If our sources are correct, and Gucci Mane has ten albums worth of material in the vault, expect Gucci Mane to remain a relevant name in the hip-hop game in the next three years.