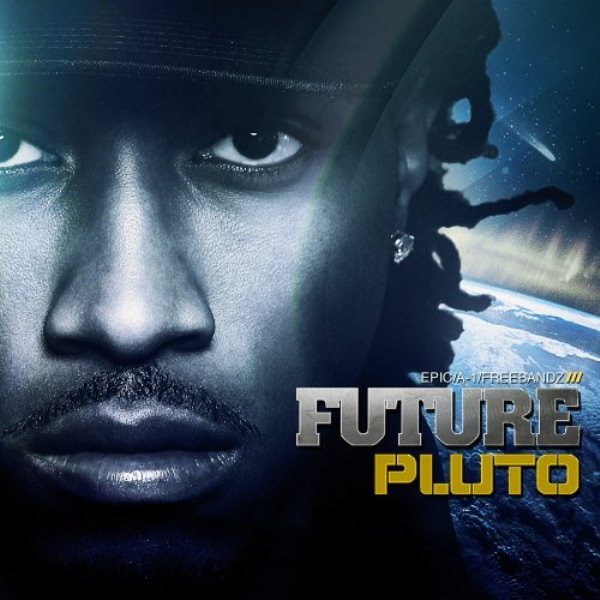 With Future's new album "Honest" in stores now, we wanted to bring back our analysis of "Pluto" to provide some context.
Album Review: Future – Pluto
This week, Atlanta's own Future released his debut album Pluto via Epic Records.
Can Future's album take his career to the moon, or will he be another disposable rapper who eventually goes with the wind?

Editor's Note: This article includes (keep scrolling) a complete song-by-song review of every one of Future's tracks on Pluto.
Before you listen to Pluto, there's a few things you need to know about Future and Future's music.
Let's start with the obvious: Future can write hit records in his sleep.
While your favorite hardcore lyricist is getting shelved because they cannot write a hook to save their lives, Future has more hit songs than he knows what to do with.
This is blatantly obvious when you re-evaluate the mixtape campaign that culminated with Future signing with Epic Records and getting a first quarter release date for Pluto.
He was giving hit songs away.
Sure, all of Future's mixtapes have some filler (whose don't?), but all of the free street albums also come with a handful of songs that could be radio singles if a major record label put the marketing dollars behind it.
Look no further than "Blast Off", "No Matter What", "Yeah Yeah", "Jordan Diddy", "Stand", "Feeling I Get", and "Like What You Do". Believe me I could name more, but this is an article about Future's debut album, not mixtape hits.
With that being said, if you are the type of music fan who appreciates a catchy chorus delivered with feeling over some excellent production, Future is your guy.
More importantly, you're the type of person that will enjoy and appreciate the music Future delivers on Pluto.
If you're looking for the reincarnation of Nas, then Future's Pluto probably will leave you wondering why so many people are excited about Future's music in the first place.
It's not that Future can't rap. He can, and probably better than you realize. It's just that he knows no one gives a shit (sorry, mom) about verses.
Sure, some people do, and when their favorite rappers drop an album or release a single, all ten thousand of them go pick it up.
With that being said, let's get to the songs. Below the song-by-song breakdown you will find my final thoughts on who will enjoy this album.
Atlanta's Future Album Review: Future Pluto (Song by Song Breakdown)
01. "The Future Is Now" – Future's debut album begins with a spoken introduction by Big Rube, a first generation member of Atlanta's Dungeon Family who also appeared on Future's debut mixtape 1000. If you're not aware, Future is also part of the Dungeon Family tree; Future's cousin is Rico Wade.
02. "Parachute" – As you will read in this Pluto review, I enjoyed much of Future's debut album. However, I have no idea why the R. Kelly assisted "Parachute" is the first bit of music we hear, let alone why it's even on the track list. Next time you decide to collaborate with a grown man that enjoys peeing on minors, make sure it's worth it.
03. "Straight Up" – Future picks things up after the sluggish "Parachute" with the kind of song that fans of Future's mixtapes have come to expect. Featuring a beat by Atlanta production duo Nard & B, "Straight Up" has that new Atlanta sound that Future has helped define over the past year or so. This song — like many of Future's hottest tracks — is best played when riding around in the car, windows down, bass up high. What's Future rapping about? Who cares. "Straight Up" is all about the feeling. And it feels good, straight up.
04. "Astronaut Chick " – Although it brings the energy set by "Straight Up" down a few notches, Future's "Astronaut Chick" is one of the stand-outs from Pluto. An ode to the ideal lady companion, Future uses his verses for smooth talking and dream selling raps with a pitch of autotune, but saves the real work for "Astronaut Chick" chorus. Will the lyrics typed out do it justice? Of course not, but I don't care.
You a astronaut chick, and that's the only thing that matter to me
You were made to be on a whole 'nother level
Me and you we light the room up when we together
[…]We gon' blast off like some rockets when the time's right
05. "Magic (Remix) feat. T.I." – Any fan of Future has been jamming "Magic" since sometime last year when Future leaked the song via his twitter. It marked one of the first times Future said "Pluto" on a track. I know I had the original "Magic" on repeat in the car throughout the summer when I'd be driving back and forth from my apartment to my office in Atlanta. "Magic" brings me back to the that time. Now It's always great to have a new T.I. verse, but I'm not the biggest fan of his presence on this song. Sure, it introduced Future and the song "Magic" to a larger fanbase, but I liked it the way it was. How about you?
06. "I'm Trippin feat Juicy J". Future stays true to the outer space concept of Pluto. On "Trippin", the copious drug use is what Future attributes to his astronaut status. Future switches up his flow from verse to verse, but Juicy J's guest appearance takes "I'm Trippin" to the next level.
07. "Truth Gonna Hurt You". Although sounding more somber than usual, Future's chorus is as catchy as some of Pluto's best. The overall vibe of this song doesn't fit as well with the energy of the album at this point, but it's an honest portrait of how rockstar life can strain a healthy relationship.
08. "Neva End". Mike Will made it, so that's a good sign, right? "Neva End" is another one of the standouts on Pluto. I've already written a lot about Future's debut album, so I'll cite a quote I remember reading in the cover story about Future in Fader before this song saw the light of day.
[…] the unreleased "Never End," a synth ballad where he sounds so vulnerable it makes you want to give him a hug.
09. "Tony Montana" – Believe it or not, "Tony Montana" is one of my least favorite Future singles of all time. The video was amazing, though, and thanks to the radio machine, Future's song eventually grew on me. Is it just me or is it weird that Drake is still on this song considering their beef over the video?
10. "Permanent Scar" – Future shares some of his hardships in the streets of Atlanta over an up-beat instrumental. I'm a fan of what he's saying on the chorus, but I can't say it has the same replay value as some of the aforementioned Pluto tracks.
11. "Same Damn Time" – This song is amazing. Seriously, Future knocked this one out of the park. He delivers his verses in such an unorthodox way that I'm positive no rapper in the game would have the balls to do the same on this beat. The Sonny Digital produced song stood out like a sore thumb on Streetz Calling (I mean that in a good way), and the mastered version is a perfect addition to Pluto.
12. "Long Live The Pimp feat. Trae The Truth" – Future's buzz got serious fire thanks to Dirty Sprite, a mixtape Future claims to have recorded entirely under the influence of cocktail of codeine and sprite. Now considering the dirty sprite in Future's cup originated in Texas, it's commendable that Future dedicates an entire song on his debut album to Texas rap, specifically legendary rap duo UGK, and Texas drink. As for the song itself, it bumps! Trae The Truth appears for a somewhat out of place sounding third verse (I doubt they were in the studio together recording this one), but considering my fondness for Trae's voice and the Texas authenticity he brings to Future's ode, I'm cool with it.
13. "Homicide feat. Snoop Dogg" – So you've listened to Future's street anthems and now you think you want to live the life? Think twice, kid. With Snoop Dogg riding shot gun, Future paints a picture intended to boost his own street cred while scaring wannabes away from the lifestyle.
14. "Turn On The Lights" – Future, like all heterosexual men, is looking for the perfect female companion. There's a lot to like about "Turn On The Lights", but I was particularly impressed with how Future managed to describe the universal ideal of what a woman companion should be in the refrain of the song, while still making it catchy. Ladies, want to know what a guy wants? It's simple:
Turn on the lights, I'm looking for her, too
I heard she keep her promises and never turn on you
I heard she ain't gon cheat and she gon' never make no moves
I heard she be there, anytime you need her she comes thru
15. "You Deserve It" – If you haven't figured it out yet, Nard & B's beats bring the best out of Future. "You Deserve It" is one of those songs that someone who works extremely hard, achieves success, stays humble, and continues working extremely hard writes in those rare moments where he/she takes a step back and realizes what they have accomplished. Future sounds triumphant, as he should. This is one of my favorites off of Pluto and a fitting conclusion to the album.
It brings water to my eyes just to hear me on the radio
You wouldn't understand the route I had to take to get here so
I work for this, it didn't come easy…
If you are already a fan of Future and the music on his mixtapes, then Pluto will make you a happy camper.
If you heard of Future thanks to his radio singles and decided to listen to Pluto, I don't think you would be convinced he's the next big thing, but once you realize how consistent he is when it comes to writing hits, you'll agree that Future has something special.
And for all the bloggers complaining that Future is a weak lyricist, you should buy a time machine and go back to 1994. And stay there.
Haters will stay stuck in the past while the rest of us enjoy the Future.