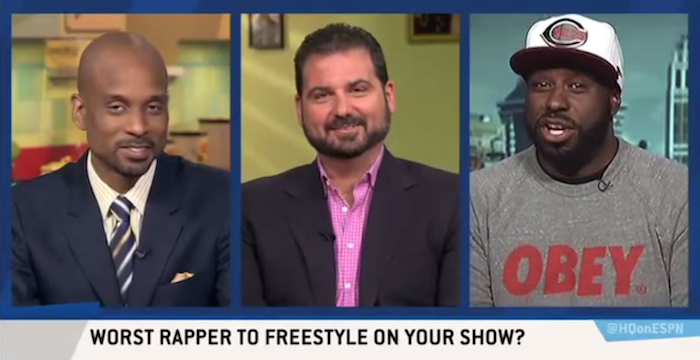 2 Chainz took time out of his New York City performance to diss Hot 97 DJ and On-Air Personality Funkmaster Flex
This is ridiculously short-sighted on 2 Chainz' part. First of all, no one saw Funkmaster Flex say 2 Chainz freestyle was wack. It's not like Flex was on Sportscenter. He was on ESPN 2. Second of all, dissing influencial deejays is one of the dumbest moves a rapper can make. You would think 2 Chainz would know better considering he's a veteran of the rap business, but hey, nothing surprises me these days.
Timeline of the 2 Chainz / Funkmaster Flex beef:
June, 2012: 2 Chainz kicks a freestyle during an appearance on Funkmaster Flex's Hot 97 radio show. Watch the freestyle below:
April 2014: During an appearance on ESPN 2's Highly Questionable, Funkmaster Flex disses 2 Chainz. Well, not sure if you can even call it a diss, but considering how sensitive rappers are, it's not a surprise 2 Chainz took Flex's public comments some type of way.
XXL reports:
…the Hot 97 DJ was asked who had the worst freestyle on his show. After mulling over the question for several seconds, seemingly not wanting to out the rapper with the struggle bars, Flex finally confessed. "The freestyle that wasn't very good on my show, it had to be 2 Chainz." Flex then expounded on his answer saying the ATL rapper probably had an off day. "Honestly, I think I caught him off guard," he added. "I think he didn't expect me to ask him to do it. Because I've heard him on shows freestyling before so I knew he could handle it. But I think that day he couldn't handle it."
April 30, 2014: 2 Chainz takes time during his performance in Flex's hometown to voice his displeasure.